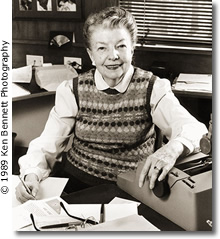 About Phyllis A. Whitney
by Philip W. Tyo
Photograph used with permission
Phyllis Ayame Whitney was born of American parents on September 9, 1903 in Yokohama, Japan. Her father, Charles Joseph Whitney, was a native of Iowa and worked for an export house in Yokohama. Her mother, Mary Lillian (Lilly) Mandeville, was the youngest granddaughter of Donald MacLeod (later shortened to McLeod) of the Scottish Black Watch. McLeod, a native of Inverness, Scotland, fought in the battle of Waterloo and, in 1837, took part in a rebellion against the Canadian government over citizen injustice. Imprisoned for his actions, he was tried and acquitted in 1838, and pardoned by Queen Victoria who approved of his cause. He settled in Cleveland, Ohio.
As young people, Phyllis Whitney's parents were sweethearts, but a quarrel separated them. Lilly married a handsome stage actor, Gus Heege, and left Cleveland to act in his plays. Together, Gus and Lilly had one son, Philip, who followed in his father's footsteps, also becoming an actor. After Gus Heege died, Charles Whitney, still in love with Lilly, sent for her to come to Japan. They married and out of that romance, Phyllis A. Whitney was born.
Phyllis Whitney's earliest stories were written when she was a teen in the Orient. However, she really wanted to be a dancer. Her mother, a great influence in her life, encouraged her daughter's dancing as well as her writing. In 1918, after her father's death in Hankow, China, Phyllis and her mother traveled aboard an ocean liner from Japan to San Francisco, California. After spending the first fifteen years of her life living in Japan, China, and the Philippine Islands, this ten-day journey across the Pacific was extremely exciting to Phyllis who was going to see America for the first time! This early travel heavily influenced Phyllis and she would later write novels with settings in America, Europe, Africa, and the Orient.
On their way to California, Phyllis Whitney and her mother briefly stopped over in Honolulu, Hawaii, a place where her father had lived before she was born. Phyllis had grown up hearing her father's stories about Hawaii, and the history and the music of the islands were an integral part of her childhood and her "emotional heritage." Never forgetting Hawaii, Phyllis A. Whitney used the island of Maui as the setting for her 1987 novel Silversword.
After reaching America, Phyllis A. Whitney and her mother lived in Berkeley, California and then in San Antonio, Texas. During this time, her mother continued to support her daughter's dancing by making her costumes so that she could perform at Red Cross benefits. Phyllis also worked as a dance instructor for one year in San Antonio, though she soon gave up dancing and turned her sights towards writing.
Phyllis A. Whitney's mother died in San Antonio and Phyllis went to live with her aunt in Chicago, Illinois. After graduating from Chicago's McKinley High School in 1924, Phyllis began to write seriously. Beginning with short stories, she finally sold one to the Chicago Daily News. Over time, Phyllis A. Whitney sold approximately one-hundred short stories to church papers and pulp magazines -- "magazines printed on coarse pulp paper as contrasted to the slicks, printed on coated paper" says Phyllis A. Whitney. "The pulps paid little and had trashy looking covers. They vanished after the paperbacks appeared." During this period, to earn a living, she worked in the children's room in the Chicago Public Library, and in bookstores and libraries in Chicago. In 1925 Phyllis A. Whitney married George A. Garner and in 1934, gave birth to her daughter, Georgia.
During the 1940's, Phyllis A. Whitney served as Children's Book Editor of the Chicago Sun's Book Week (1942-1946) and the Philadelphia Inquirer (1947-1948). In 1941, her first book for young people, A Place for Ann, was published by Houghton Mifflin. And in 1943, her first adult suspense novel, Red is for Murder, was published by Ziff-Davis Publishing Company. She also taught juvenile fiction writing courses at Northwestern University in 1945 and at New York University from 1947-1958.
In 1950, after a divorce, Phyllis A. Whitney married Lovell F. Jahnke. By 1960, she had written 25 books. In 1961, the Mystery Writers of America awarded Phyllis A. Whitney's sixth juvenile mystery, Mystery of the Haunted Pool, the prestigious Edgar Allen Poe Award (know simply as an "Edgar") for best children's mystery story of the year. By 1964, another of her juvenile mysteries, Mystery of the Hidden Hand, also won an Edgar Award as well as the Sequoyah Award of Oklahoma. Additional juvenile works nominated for an Edgar were Secret of the Tiger's Eye in 1962, Secret of the Missing Footprint in 1971, and Mystery of the Scowling Boy in 1974.
By the mid 1960's, Phyllis A. Whitney's popularity had reached international proportions, particularly in England and the Scandinavian countries. With 37 books in print, she was hailed by Time Magazine as "one of the best genre writers" and "the only American in her field with a major reputation" equal to those of Britain's Mary Stewart and Victoria Holt.
After Chicago, Phyllis A. Whitney lived for over 20 years on Staten Island, New York, and then in the Sussex area of Northern New Jersey. After a year in Sussex, she and her husband moved to Hope, New Jersey where her husband died. During their marriage, Phyllis and her husband spent many years traveling doing research for her novels. Whether at home or abroad, her research before and after visiting locales was exhaustive. And she made it her custom to write from the viewpoint of "an American visiting the country for the first time." This being the viewpoint she was entitled to. In 1975, Phyllis A. Whitney was elected President of the Mystery Writers of America. In 1988, the organization awarded her the prestigious Grand Master Award -- the "pinnacle of achievement" for a mystery writer. This lifetime achievement award honored Phyllis A. Whitney for her high quality work and her contribution to the genre. She joined the ranks of former honorees such as John le Carré, Daphne du Maurier, Alfred Hitchcock, Earl Stanley Gardner, Ellery Queen, and Agatha Christie. Phyllis A. Whitney was awarded two more lifetime achievement awards - the Agatha in 1989 from Malice Domestic, and one in 1995 from the Society of Midland Authors.
Phyllis A. Whitney has one daughter, Georgia, three grandchildren -- Barbara, Michael, and Lorraine, and two great-grandchildren, Danny and Matthew.
Phyllis A. Whitney passed away on February 8, 2008 at the age of 104.